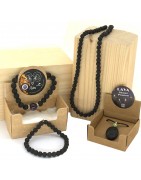 The range of jewelry and jewelry in lava, Canarias Shop, is unique and will surprise you. The energy of volcanic lava activates vitality and stimulates people's enthusiasm for life projects, increases personal creativity and perseverance to achieve goals.
Explore the collection of bracelets, necklaces and other jewelry made from volcanic lava in Canarias Shop. All jewels in this collection are handmade with selected natural stones (including volcanic lava).
It is said that lava can release oppressed emotions, provide vitality and improve the sense of self-confidence and self-confidence. The color is black eliminates negative polarity and tension.
Jewelry in Lava